During the 401(k) plan design process, we get a lot of questions from small business 401(k) fiduciaries about employee eligibility.
They want to know when they should let new employees into their 401(k) plan and their options for keeping certain employees – generally the ones that won't participate – out.
These are important questions to answer correctly. Who 401(k) fiduciaries let into their plan can have a dramatic effect on the plan's cost, ease of administration, and perceived value to existing or prospective employees.
401(k) fiduciaries should understand their eligibility options to best match them to company 401(k) plan goals.

401(k) eligibility basics
Small businesses may allow new employees to enter their 401(k) plan immediately or require them to meet minimum age and service conditions first. They may also want to keep certain employees out of their plan altogether. Some 401(k) plan eligibility basics for 401k fiduciaries to understand include:
The maximum age and service conditions permitted by law are:

401(k) deferrals and safe harbor contributions – age 21 and 1 year of service
Discretionary employer contributions – age 21 and 2 years of service

401(k) plans have two options for crediting service for eligibility purposes:

Elapsed time method – Easiest way for employers to measure service. Only time of employment is important. Hours worked is irrelevant.
Counting hours method - Employees must work a specified number of hours during the Eligibility Computation Period (ECP).

An ECP can't exceed 12 months or require more than 1,000 hours of service.
The initial ECP commences on the employee's hire date.
Subsequent ECPs can be based on the 1) employee's anniversary or the 2) plan year, beginning with the plan year that includes the employee's first anniversary.

"Entry dates" are the dates a 401(k) plan allows employees to enroll after meeting its age and service conditions. Common entry date frequencies are monthly, quarterly, and semi-annual.
A brand new (startup) 401(k) plan can waive eligibility requirements for all employees employed on the plan's effective date.
Choosing 401(k) eligibility terms
Company goals, employee demographics and plan features are all factors 401(k) fiduciaries should consider when choosing eligibility terms for their plan. More specific considerations include:
Companies with high employee turnover that want to keep transient employees off their plan choose longer service requirements.
Companies that want to minimize the number of part-time or seasonal employees in their plan define a year of service using the counting hours method
Companies that want their 401(k) plan to help recruit top employee talent choose shorter service requirements.
Companies that want their 401(k) plan to help employees save as early as possible for retirement choose no service requirements at all.
Companies that make 100% immediately vested employer contributions may prefer longer service requirements since vested contributions are not forfeitable upon an employee's separation from service.
What are small businesses doing today?
Two weeks ago, I studied the plan designs used by 2,767 small business 401(k) plans. Below is a summary of the service requirements used by these plans. The two most popular requirements were 1 year of service – used by 50.42% – and none at all - used by 22.44%.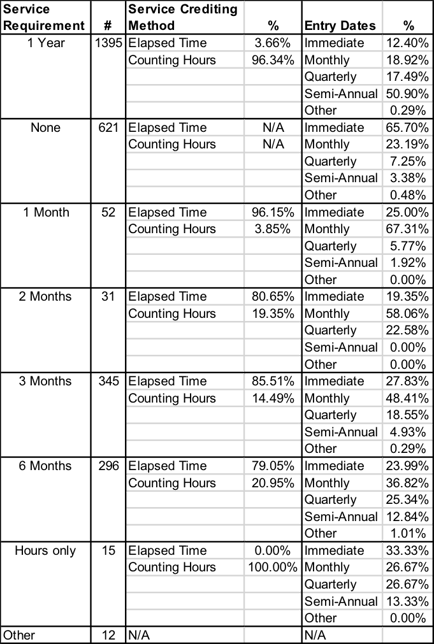 401(k) eligibility is important!
I beat this drum a lot, but there is no such thing as "one-size-fits-all" 401(k) plan. Choosing the right mix of 401(k) features during the plan design process can help a company meet their 401(k) goals at the lowest annual expense.
Some of the most consequential decisions 401(k) fiduciaries make during the plan design process relate to employee eligibility. When eligibility requirements are too liberal, plan expenses can explode and day-to-day administration is made unnecessarily complex. When they are too strict, prospective employees might look elsewhere for employment. 401(k) fiduciaries should understand their options to make the right eligibility decisions for their 401(k) plan.